pORTO 2021
Information on Ipra-Cinder's next international congress
Ipra-Cinder is already hard at work on our next international meeting on registration law. The 22nd Ipra-Cinder International Congress will be held in the city of Porto, Portugal, at the Centro de Congressos da Alfândega from 6 to 8 October 2021.
You can submitt your abastract.
The participant should choose one of the proposed topics and write an abstract of maximum 700 words in one of the official languages of the congress.
Each participant can only submit one abstract, whereas it can be about various aspects or legal issues concerning to the chosen subject.

Considering the international focus of the Congress, the abstract should privilege a comprehensive approach and, preferably, not be limited to issues of domestic law.

Abstracts must contain a complete list of the ideas that will be developed in the final paper and its conclusions, to allow the Scientific Committee to understand the extent the author seeks.
Abstracts must be submitted until the deadline set via the online submission platform.

Abstract must include a biographical note of the author, the academic title and professional activity.

In order to submit an abstract the author must be registered in the congress.
Please submit your abstract here.
TOPICS TO DISCUSS
I – Land Registry and Globalization: Various issues can be addressed under this theme, such as the legal instruments of standardization, unification and harmonization of law and their impact on Land Registration; the globalization of legal knowledge through international cooperation networks; or the platforms for exchanging information between different registry systems. The opening theme being: the international migration and its reflection in the registry activity
II – Sustainable development – the role of Land Registry in the challenges of the 21st century. Economic and social consequences. The breadth of the theme allows the approach of subjects such as the geographic identification of the immovable and its relevance to the registry publicity; the participation of the land registry in eliminating or reducing territorial imbalances; the collaboration of registries in the prevention of money laundering and terrorist financing and in the publicity of actual information on beneficial ownership; or the technological revolution, the electronic treatment of personal data and their protection; disruptive technologies; and Big Data.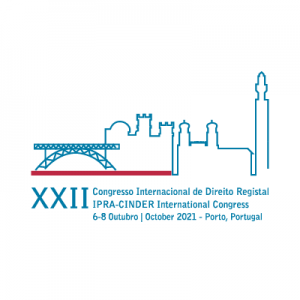 Centro de Congresos Alfândega do Porto